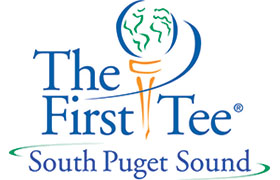 The First Tee South Puget Sound
Thursdays | 4:14pm to 5:35pm (PLAYer/PAR)
Gold Mountain is excited to be partnering with The First Tee South Puget Sound this season to bring junior golfers to the course. This summer we will be hosting a Thursday class for juniors interested in learning life skills through the game of golf. The First Tee of South Puget Sound positively impacts the lives of young people by providing educational programs that build character, instill life-enhancing values, and promote healthy choices through the game of golf.
For more information contact Ryan Kallenberger, The First Tee South Puget Sound Programming Director, via email or at (253) 777-7597.
Gold Mountain 2017 Junior Camp
July 10 – 14 | Ages 6 – 17
$125 Per Junior
During the Gold Mountain Junior Camp, juniors will experience lessons in putting, chipping, iron play, driving, and golf etiquette over the course of the first three days. On their final day, all juniors will get the chance to play nine holes on the championship Cascade Course. Junior Camp is now open for registration and does have a limited number of available spots, call today to register your junior!
Call (360) 415-5432 or email Travis Cary, PGA Assistant Professional, at travis.cary@goldmt.com for more information.