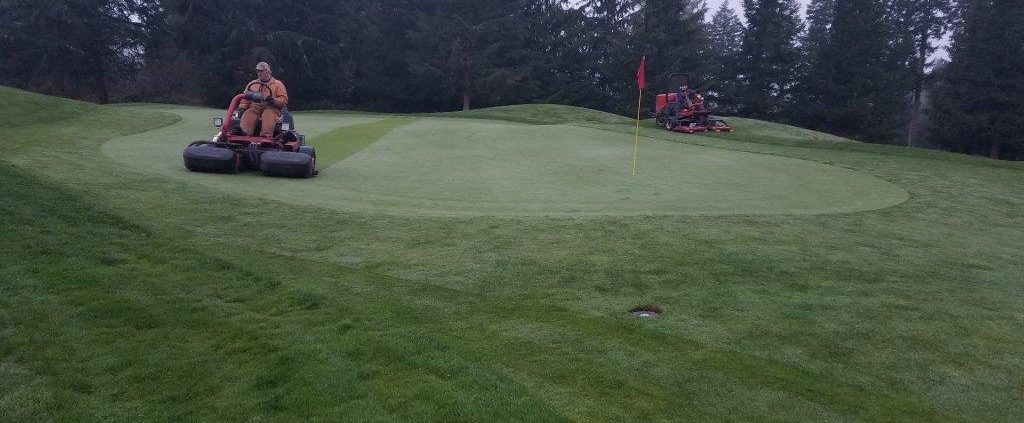 As the standard "peak" golf season comes closer to an end on the Kitsap Peninsula, let's look back at course conditions during this pas season.
This will include green speed, water usage, and overall playability of the Olympic Course and the Cascade Course.
Green speed is always a hot topic when talking about golf courses and there are various factors that affect the speed of a green.
When we watch major golf championships, we hear the commentators discussing the speed of the greens being 12.5 or 13+ on the stimpmeter (a device used to measure the speed of a green).
Keep in mind, those greens are being played by the best golfers in the world, and even they struggle with them!
From personal experience working at U.S. Open Championship, those speeds are far too fast for the average golfer.
However, those courses only keep those speeds up for the tournament they are hosting and then everything slows back down after said tournament.
We at Gold Mountain, try to keep our green speed right around a 10.5 on the stimpmeter, we have found this to be a player-friendly pace, while still challenging for our golfers.
Along with that, making sure all our greens are rolling consistently and smoothly is a top priority.
For big tournaments, and when requested for certain events, we can easily get green speeds up to a 12 on the stimpmeter, then our golfers will really be getting a taste of what the professionals experience week in and week out.
This golf season has seen a pretty remarkable drought of over 50 days in a row with no precipitation and over 70 days with moisture accumulations only reaching 0.10 inches.
We have a weather station at our maintenance shop that measures a number of different things, but one key measurement it gives us in our evapotranspiration (ETs), which is the amount of water lost by a plant every day.
The weather station then relays the ET information to our irrigation system, which then calibrates how long each sprinkler head on the course needs to run each night.
We also can go in and manually adjust run times for certain areas of each golf course.
Watering, however, is like walking a tight rope.
It we over water, the course becomes saturated and playing conditions are not optimized.
If we under water we can lose turf, and if not treated, those desiccated areas are likely to fill in the next season with weeds.
No irrigation system gives perfect coverage, only nature can take care of that; however, we are very fortunate that our irrigation system can keep up with our ever-changing climate.
Considering the record rainfall, snow, and ice we had this last winter, and then the record drought we are still having this summer, both courses are performing very well.
We had several greens buried under ice for up to six weeks last winter and have had extremely good success recovering them back to championship conditions in a relatively brief period of time.
Then add on all the heat from this summer…needless to say we have invested a lot of time into trying to keep the course firm and fast by hand watering hot spots, or localized dry spots (LDS).
This allows us to not over water or under water in certain areas, while still providing a championship caliber product.
Overall, all areas of both courses are handling the crazy Pacific Northwest weather well.
Our fairways are very firm, allowing golf balls to bounce and roll out nicely, giving you those extra few yards off the tea.
Our greens are also firm, and provide a bit of a challenge with the way they receive and hold a ball on an approach shot.
Both the Cascade Course and the Olympic Course are in great shape and will continue to be in this condition, now we just wait for some much-needed rain to liven up the courses!
Ed Faulk
Gold Mountain Golf Club Superintendent
https://goldmountaingolf.com/wp-content/uploads/2017/08/20170420_062028.jpg
768
1024
Teesnap Developer
https://goldmountaingolf.com/wp-content/uploads/2017/04/goldmt-logo_2Color_transparent-1-e1493064764505.png
Teesnap Developer
2017-09-05 17:56:31
2017-09-05 17:57:03
How Did the Courses Handle the Weather?