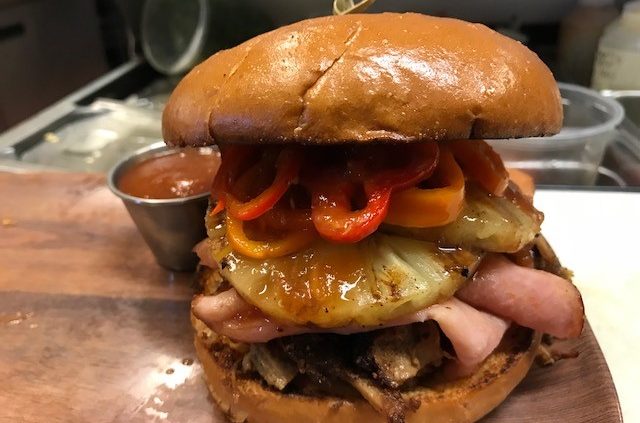 The Hero Sandwich has a lot of history in the United States.
The ultimate question is, where did the Hero Sandwich originate?
There seems to be one story that stands out from all the others, and it leads to the assumption that the sandwich originated in Italy from Italian immigrants who brought the idea to our East coast in the early 19th century.
The Italian's combined fresh salami, pepperoni, prosciutto, and Mortadella cured meats as the heart of the sandwich, while traditionally adding lettuce, tomato cured meats, and Provolone cheese to round it out.
American's typically enjoy mayonnaise on their sandwich, while Italian's substituted oil and vinegar as their main condiments.
In Boston, the Hero is known as a sub sandwich, or a submarine sadnwich, because of the shape of the bread.
In New Orleans, it is known as a Po'boy and has many meat and seafood variations.
But here at Gold Mountain, our Hero Sandwich has slow cooked pork roast that is dry marinated in our house spice rub.
Then topped with thinly sliced black forest ham, grilled pineapple rings, house-made pickled peppers, and our sweet and spicy hero barbecue sauce.
Ingredients are piled high on a fresh brioche bun and served with our house-cut French fries.
Trust us when we say, you'll be telling your friends about this!
So no matter where you are eating your Hero Sandwich it will probably be a little different than the place before, but we have a feeling Gold Mountain's is the one you will always remember!
Jon Forcier,
Executive Chef
https://goldmountaingolf.com/wp-content/uploads/2018/01/Hero-Sandwich.jpg
480
640
Teesnap Developer
https://goldmountaingolf.com/wp-content/uploads/2017/04/goldmt-logo_2Color_transparent-1-e1493064764505.png
Teesnap Developer
2018-01-22 11:31:22
2018-01-22 11:31:22
Pork Hero Sandwich