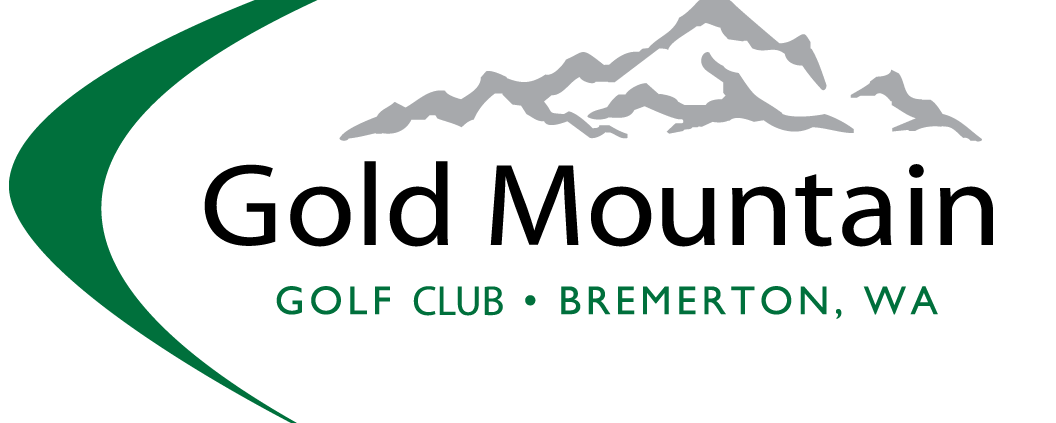 As the golf season quickly approaches I wanted to take you behind the scenes of what goes into maintaining the entire Gold Mountain golf complex.
The greens are a crucial part to the success of our golf courses, we mow on both courses every day (weather permitting) during the summer at a height of cut (HOC) of .110 inches.
It takes two mowers per course and totals about four hours a day to mow all 36 greens, and immediately after cutting we take one roller out and smooth the greens.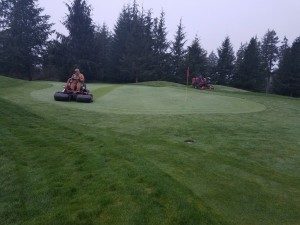 We set up both courses every day, this includes cutting fresh cups (holes), picking up broken tees on each tee box, sanding and seeding divots on the tee boxes, moving tee stones and benches, emptying all trash bins, and moving/fixing the ropes on the course.
One team member is devoted to this task on each course, taking between four and five hours to complete, depending on how much play there was the day before.
Moving on down the hole, we mow our short cuts of grass at a HOC of .450 inches, this includes tees, approaches, and fairways.
These areas of both courses are mowed two days a week and take about six hours per course, with two team members on Olympic and one on Cascade.
The areas we consider our rough take the longest for team members to complete.
The area surrounding the greens take between 16 and 20 hours for two team members to complete between both courses, the area surrounding the tees take up to 16 hours to complete on Cascade and only four to six hours on Olympic, and the rough takes about 10 to 14 hours to complete on Olympic, whereas Cascade can take up to 40 hours to complete depending on traffic throughout the property.
Our rough areas are moved at 2 inches throughout the property, apart from Olympic course tee surrounds, which are mowed at 1.25 inches.
While we are proud of the entire golf complex, we especially take pride in the condition of our sand traps.
of weeds.
The Olympic sand traps are hand raked throughout and weeded three to four times per week.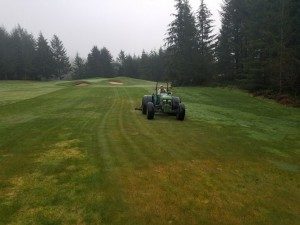 The Cascade course sand traps are raked once a week using a Sand Pro, followed by hand raked edges, and manually pullingThere are various other tasks that take place throughout the week depending on weather, overall it takes our team up to five hours to complete sand trap care.
Filling divots with a sand and seed mix is one of our ongoing projects on both courses, and as long as we have golfers this will continue to be a big point of concern.
We dedicate a minimum of two and a half hours a day with two team members just to our practice area recovery and our fairways get their divots filled as often as possible, which ends up equaling up to 30 hours per week for our team.
Fertilizing and spraying the property is done on a regular basis throughout the year.
We do one granular fertilizer application on both courses that covers everything, except our greens, and this takes one person up to 35 hours to complete.
We then spray our greens, fairways, and tees with a variety of fertilizers and other products to continue growing healthy grass, this process totals about 20 hours per week for two team members to completely over the entire property.
A key part to our success includes the topdressing, venting, aerating, and verticutting of our greens, fairways, and approaches.
Topdressing our greens is done every four weeks, this improves overall playability and takes four people about five hours to complete.
Venting, aerating, and verticutting is implemented within each four-week window and takes one to two employees up to six hours a week to complete.
There are a few final miscellaneous jobs that we try to squeeze into an already tight working window.
Hand watering is a crucial part in maximizing course conditions, we dedicate 20 to 26 hours a week to hand watering localized dry spots across the property.
Irrigation issues are also an ongoing struggle and are difficult to anticipate, between the Cascade and Olympic course roughly 15 to 20 man hours are dedicated to prevention and repair of the irrigation systems each week.
Lastly, cleanup on the course is always a top priority, anything including trash, debris, tree limbs, divots, etc. is considered a cleanup item.
We try to accomplish this before our guests arrive so they have the best experience possible, this process takes about seven hours on each course to complete.
None of our course maintenance would be possible without the work of our two mechanics, Andrew Goodell and Jim Gregoire.
We have well over 60 pieces of equipment here at Gold Mountain, and they are responsible for making sure each piece of machinery is running and cutting perfectly.
This includes everything from string trimmers and chainsaws, to mowers and carts, and even our tractors.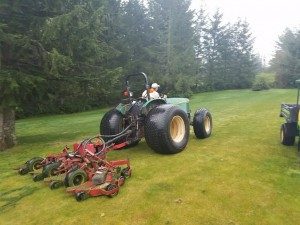 They are also responsible for making sure the fleet of 127 golf carts at the Golf Shop is working properly.
And as if that is not enough, they make time to help on the golf course whenever assistance is needed.
It is pretty obvious that it takes a tremendous amount of man hours to maintain at 36-hole facility.
We are able to achieve this with five full-time team members on the Cascade course, six full-time team members on the Olympic course, seven seasonal members, two mechanics, and a superintendent.
There is so much more that goes on outside of what I have listed here, but needless to say it is very impressive what this group of people can do in such a limited amount of time.
We love Gold Mountain Golf Club and we want to make sure our guests love it just as much.
Patrick McKenzie
Gold Mountain Golf Club
https://goldmountaingolf.com/wp-content/uploads/2017/04/goldmt-logo_2Color_transparent-1-e1493064764505.png
624
1056
Gold Mountain Golf Club
https://goldmountaingolf.com/wp-content/uploads/2017/04/goldmt-logo_2Color_transparent-1-e1493064764505.png
Gold Mountain Golf Club
2017-05-06 18:31:37
2017-08-08 11:53:28
More Than Just a Mower